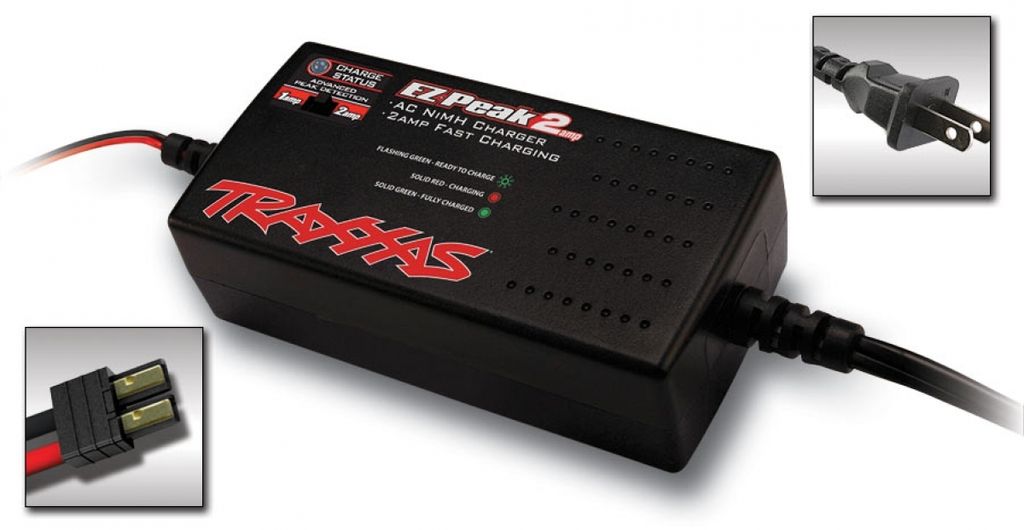 Traxxas #2932 EZ-Peak™ 2amp Charger
Traxxas EZ-Peak™ 2amp Charger
Traxxas EZ-Peak 2-amp Charger is an advanced, multi-current smart charger optimized for Traxxas® 6V-9.6V (5-8 cell) NiMH battery packs. The charger utilizes a proprietary 4-stage charging cycle to maximize both battery life and capacity. Includes a selectable 1 or 2-amp charge rate. The charger automatically determines the correct charging voltage. The EZ-Peak 2-amp charger features reverse-polarity protection, an automatic shutoff feature, and auto trickle charging.
EZ-Peak™ 2amp Charger Features
Traxxas high-current connector (patented)
Easy plug-in and charge operation
Fast charges 5-8 cell packs
Fast Charges the Series-1 battery packs for your Traxxas 1/16 models in about 35 minutes!
Traxxas lifetime electronics warranty
NiCad and NiMH compatible
No complicated menus or setups, just plug it in and start charging!
Advanced peak detection circuitry delivers a full charge every time with no guesswork.
| | | |
| --- | --- | --- |
| Part # | Description | |
| 2932 | Charger, EZ-Peak AC NiMH charger, 2 amp fast charging | |