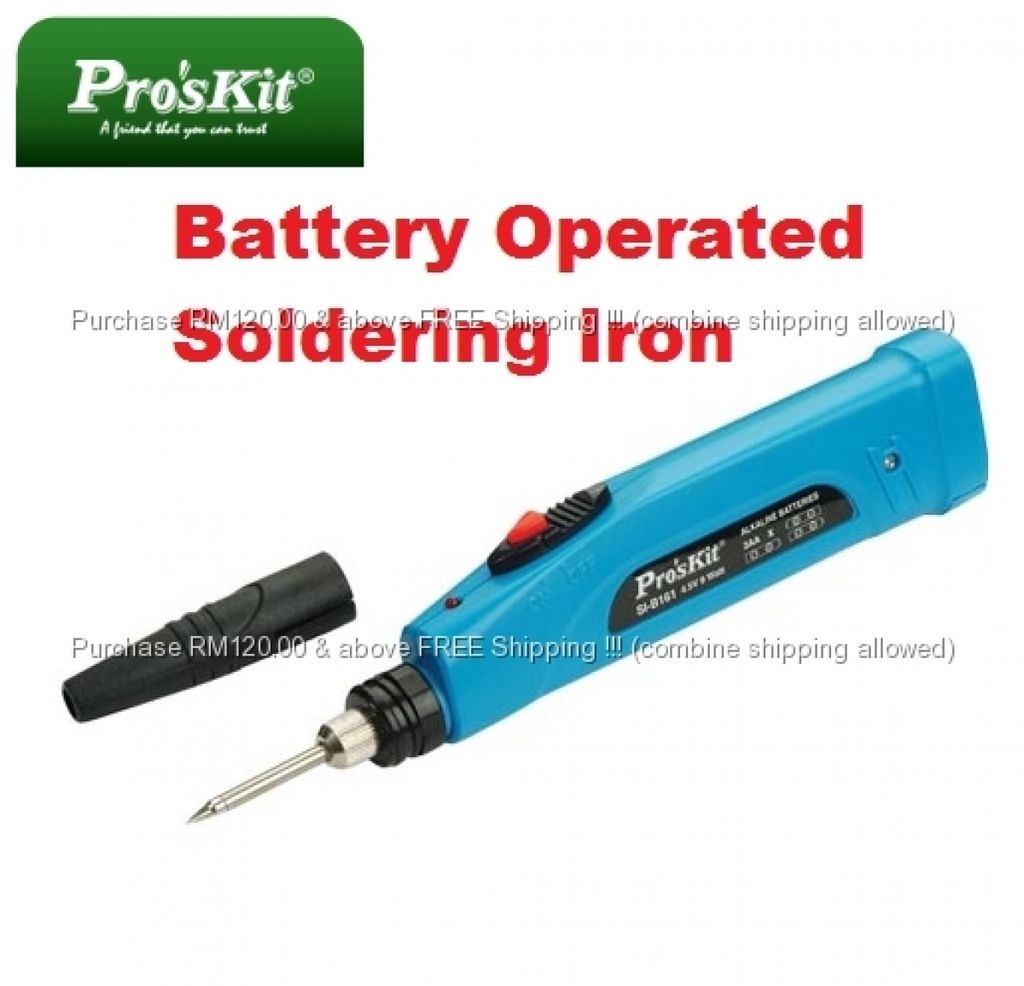 Pro'sKit #SI-B161 Battery Operated Soldering Iron
Features
For RC Models, Automotive, Field Service, Telecom, Electronics, Marine, and Circuit Boards!

FaSI-B161, the Battery Operated Soldering Iron is a cordless tool that heats quickly and cools down nearly as fast. It creates the heat right in the proprietary tip material, making the tool 20 times more efficient than the average conventional soldering iron. The tip reaches its working temperature of 365°F/185°C in 12 seconds for soldering up to 160 joints with fully charged batteries and cools to the touch in less than 12 seconds so you can put it away – without any waiting.
It's easy to use with its ergonomic pen-like shape and cordless operation. SI-B161 is great for automotive, field service, telecom, electronics, marine, and light PCB work (case molding, repairing circuit boards, etc.)

Features:
· Fast start-up feature to reach 365ºF/185ºC in 12 seconds.
· One tip changer tool, one coil solder wire, and a safety cap (included)
· Equivalent to a 9 Watt iron at 450ºC max.
· Lightweight and completely portable.
· Solder up to 160 joints with fully charged batteries.
· Approximately 30 minutes of continuous use.
· Long life, iron-plated tip.
· Bright white LED illuminates soldering area.
Specification
Outer dimensions (w/o cap) soldering iron (mm)

190 (L) x 38.3 (H) x 21.8 (W)

Operating time

Approx. 30 minutes continuous use with new battery

Approximate temp. of soldering tip

9W (max) / 840°

F

(450

°C

)

Time to reach operating temp.

365°

F

/185

°C

in 12 seconds

Approx. nos. of solder joints intermittently

160 joints / using new batteries

Replacement tip

9SI-B161-T long life, iron-plated, anti-corrosion
Individual Packing