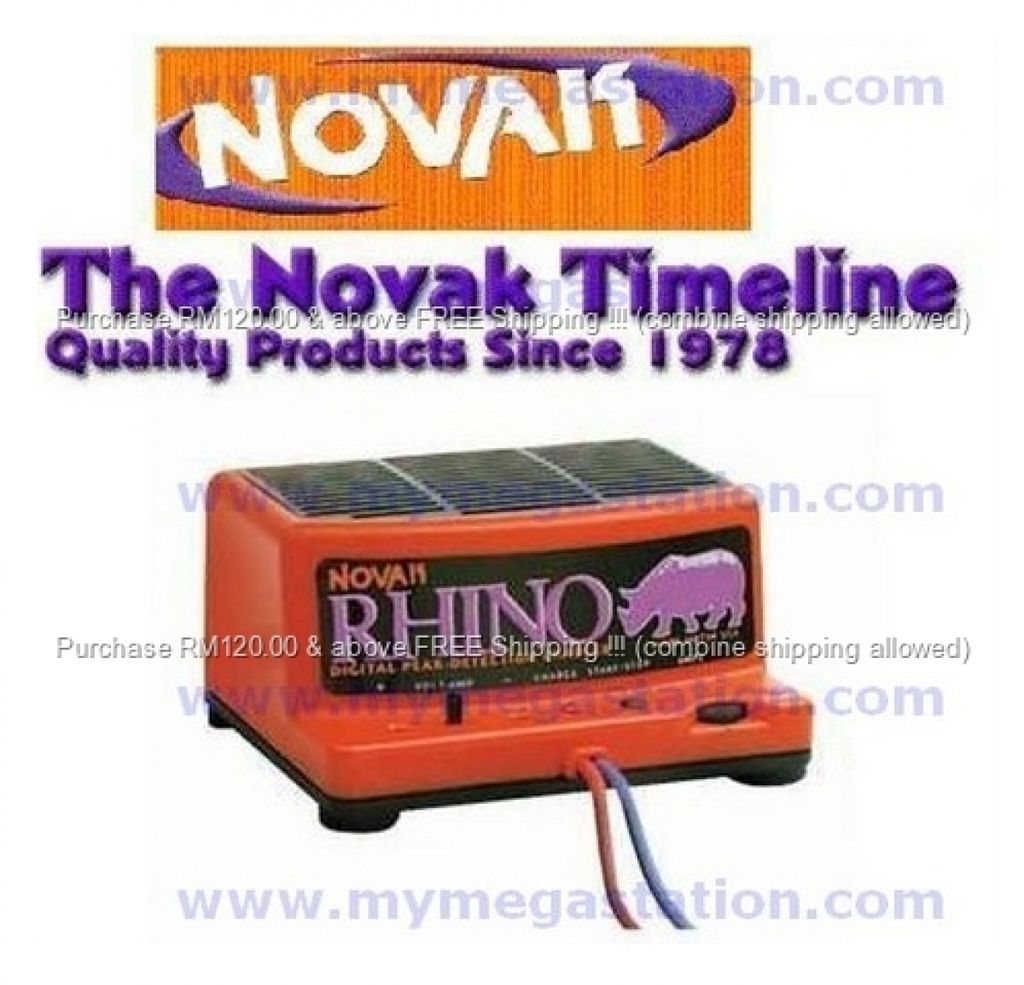 Novak's N4470 Novak Rhino Digital Peak Detection Charger
internal cooling fan and a user-cleanable air filter, dirt is kept out and ensures the Rhino performs at its maximum efficiency.
Technical Information
NOTHING CHARGES LIKE A RHINO
Novak's Rhino Digital Peak-Detection Charger is rugged, smart and easy-to-use. It can handle 4-8 cells at up to 10 amps with ease. By setting the amp knob to minimum, the Rhino will also charge receiver and transmitter packs.
Although the Rhino is equipped with impressive technology, it is very simple to operate. Charging begins with the touch of the start button. No maps, timers or complicated instructions are required for this user-friendly device. For added convenience, the Rhino can be powered by the N-Power, a compact and handy DC power supply also available from Novak. Simply connect the Rhino to the N-Power, and you are ready to charge.
R/C enthusiasts will love the many useful features the Rhino is equipped with. Its Digital Peak-Detection Circuitry allows the Rhino to automatically sense when the battery pack is fully charged. The Rhino also has Solid State Reverse Voltage Protection and Thermal Overload Protection, making it extremely durable and eliminating the need to constantly replace fuses. If for any reason charging has to be interrupted, the Rhino is capable of stopping the battery pack's charge cycle at any time, and then resume at the same point where it was left off. Built with an
| | |
| --- | --- |
| Charging Capacity | 4-8 nickle-cadmium cells (4.8-9.6v) |
| Peak Detection Type | 10 bit digital |
| Charging Rate | 0.5amps to 10amps(adjustable) |
| Charging Current | constant, pulse |
| Power Source Input | 10 to 15 volts DC |
| Lock out time | 100 seconds |
| Size | 4.75 x 3.75 x 2.5 |
| Weight | 12.3 ounces |
RHINO FEATURES
Digital Peak-Detection Circuitry and constant current pulse charging
Charges 4-8 cell battery packs, receiver battery packs and transmitter battery packs
Adjustable charging rates from 0.5 to 10 amps
Start/Stop button allows the user to interrupt and resume the charge cycle at any time
Compatible with the N-Power power supply
Solid State Reverse Voltage Protection and Thermal Overload Protection
Internal cooling fan and user-cleanable air filter for maximum performance