U-STAR Airbrush & Compressor System R-201, High-Performance, Black Color
U-STAR Airbrush & Compressor System R-201, High-Performance, Black Color
Portable: Light-Weight, weighs less than 2 lbs. Compact and Easy to Carry.
Low Noise: Very Quiet Operation.
Maximum Air Pressure: 17 PSI
Air Flow: 8 LPM
CONTAINS:
* Dual-action airbrush / 0.3mm nozzle
* Super mini aircompressor
* Adapter
* Air hose(1.8m)
* Specification
* White box packaging
Special Design for Makeup
Unlike traditional makeup (where you rub makeup into your skin), airbrushing sprays a fine mist, so the makeup "sits evenly" on your skin. Airbrush makeup provides flawless coverage (sheer or opaque), by minimizing skin imperfections while giving skin a beautifully natural looking finished result.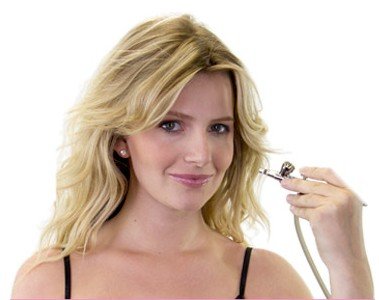 Also Excellent for Light Duty Applications
Compressor Designed for applications that use thin (light viscosity) materials: Cake Decorating, Temporary Tattoos, Tanning, Nail Art, Cosmetics, Thinned Hobby-Craft Paint!